Mongolian Snow Leopards Enterprises wins World Challenge 2011

Tue, 06 Dec 2011 15:40
Amsterdam, Wednesday 30 November 2011. Snow Leopard Enterprises, from Mongolia, has been named as the winner of this year's World Challenge competition, taking the first prize of a $20,000 grant from Shell to help develop their initiative.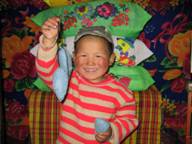 Snow Leopard Enterprises provide women across Central Asia with the training and equipment necessary to produce hand-made felt and other wool products, which are sold internationally through the Snow Leopard Trust and other outlets. This provides the herding communities with an alternative income and helps prevent the poaching of endangered snow leopards.
The award ceremony, hosted by Zeinab Badawi and featuring the top three finalists, was broadcast on BBC World News on Saturday 3 December and is available on this site.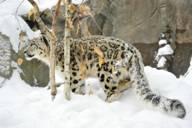 The World Challenge competition, now in its seventh year, highlights and rewards small enterprising and innovative businesses around the world. Over 70,000 votes were cast for the final 12 projects featured in the TV series.
At the awards ceremony, the two runners up, Recycla and Hand in Hand, were also awarded $10,000 each. Recycla is the first and only electronic waste recycling social enterprise in Latin America. The company recycle some of the eight million mobile phones and one million computers that are discarded in Chile annually. They dismantle and separate them into recyclable materials and dispose of toxic waste safely. Hand in Hand, from India, is an NGO project set up with local people to collect food waste from households, hotels and restaurants, which is turned into biogas and used to generate electricity via a 10kW power station. The project now consumes about one ton of food waste every day - waste that would once have found its way into landfill.
World Challenge was launched by BBC World News and Newsweek, in association with Shell, in 2005 and is a global competition rewarding grass roots projects that give something back to their communities.
Mary Wilkinson, Commissioning Editor, BBC World News says; "We're thrilled World Challenge has, again, rewarded three more innovative social enterprises. Still, after seven years, we're continuing to see a consistently high standard of entrants and it's always a pleasure to see the benefits that being involved in World Challenge brings to the projects and their communities."
The series includes a special programme, World Challenge: Down To Business, in which sustainable business advisor Leo Johnson visits two previous finalists to give them business advice to help raise global awareness of their projects.
More information on the competition and the projects can be found online at
www.theworldchallenge.co.uk
. Fans can give comment and find exclusive content on the Facebook page via
http://www.facebook.com/bbcworldchallenge
, the You Tube channel
www.youtube.com/bbcworldchallenge
and/or follow the latest competition news on Twitter via
@WorldChallenge
.


World Challenge voting is now closed
Tue, 15 Nov 2011 15:51
Watch this space to find out who has won this year's prizes and for information about the broadcast of the awards ceremony and a special Down to Business live pitching event.